Ancestral Art: The Foundation for Fine Detailing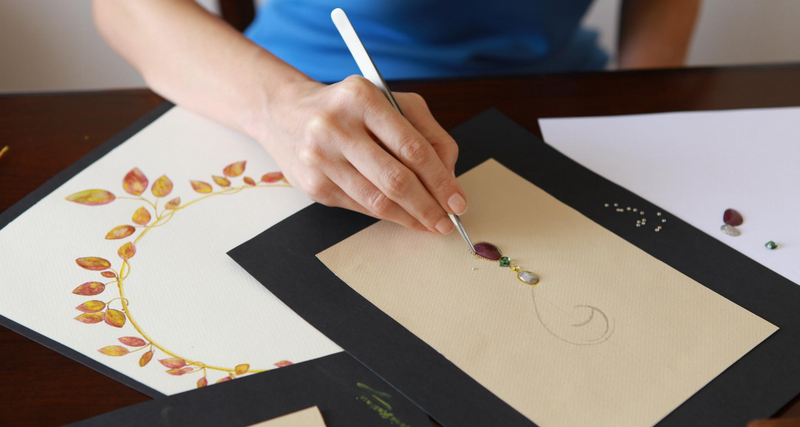 This is the story behind our gemstone jewelry. A love letter to Hania Kuzbari's grandmother.

The incomparable relationship between grandmother and grandchild often holds a distinguished bond - a reserved space for imparting wisdom and passed-down traditions. This was no exception for Hania Kuzbari. Aziza has been the force behind Hania's every move, from introducing her to work with her hands at a young age to encouraging her to make bold moves in the world of jewelry design. Her grandmother's encouragement was the first step towards honing her craft as an artisan. From the age of 7, a creative bond was formed through their love of sewing - where Hania developed an eye for fine details, materials, textures and shapes. 

"I have a distinct memory of going to my grandmother's home on weekends and watching her use her hands to sew dresses with meticulous detail. One day she turned to me and said 'now, you do it" says Hania, reminiscing on her past. 

Finding courage in creativity 
This small act of trust in Hania at 7 years old was the impetus for her lifelong love affair with hand craftsmanship. At that moment, her grandmother began paving the way for this designer to creatively flourish.
 
Sourcing organic fabrics in the late 70's often led Hania's grandmother on a hunt in Syria's neighbouring countries for luxurious silks, linens, and cotton. She refused to settle for nylon or polyester of lower quality - a trait passed down to Hania Hania's grandmother lived a lifestyle, now commonly referred to as zero-waste, where she ensured no extra fabrics were discarded, no matter how small the cut. Crafting beautiful designs with the remains of her cloth, she instilled everlasting respect for sustainability in young Hania, necessary for producing luxury creations while not squandering precious materials.  
 
Under her grandmother's wing, Hania's curiosity evolved into the courage to begin constructing miniature dresses and headbands for her childhood dolls. As she got older, she developed this ability into creating her own dresses. Hania's love of designing unique creations with her hands also allowed her to take up the art of sculpting, forming realistic gypsum portraits that were featured regularly in Jordanian magazines. 
Miniature hand-sewn dresses and a gypsum sculpture, handmade by Hania Kuzbari
 

From delicate dresses to designer jewelry
Stitching lines became practice runs for fine detailing jewelry. Ensuring her stitching is flawless from all viewpoints has translated into perfecting jewelry finishings. Hania Kuzbari's luxury accessories are imagined from both the front and the back, crafted to be cleanly finished from every angle.
Hania's knowledge of metals was passed down from her parents who worked in the metalworks business. Eventually, this knowledge translated into working with jewelry. Soldering, casting and mixing metals in miniature form.   
Fine jewelry and metalwork both require steady hands and an exact eye for detail, skills Hania has been nurturing since her childhood weekends with her grandmother. The years she spent choosing threads and materials for her grandmother's works developed her ability to pair complementary metals together. Hania mixes stones, cuts and settings, creating cohesive and harmonious works of art.
"Although it can be challenging, experimenting with different metals, colours and gemstone cuts is what motivates me to create. The end results of the artistic journey is a harmonious piece that is meticulously designed."
You can see her grandmother's influence in all of the Hania Kuzbari collections. Within the Horseshoe collection, silver and gold are paired together -  a bold choice most designers seldom make. The Arabesque collection combines wood, silver and mother of pearl, another example of a non-traditional combination Hania was drawn to make through her creative childhood experimenting with textiles. 

A detailed Smile necklace created using diamonds, tourmalines, salvaged silver and recycled gold.
Detailed jewelry designs 
Though Hania's grandmother fostered artistic confidence during her childhood, Hania still faces moments of uncertainty. 
"Just like every designer, fear sometimes creeps in when bringing new ideas to the table," explains Hania. "Luckily, I have always had a strong support system behind me, beginning with my grandmother's voice in my head pushing me to go with my gut while creating bold pieces of fine luxury. She reminds me to trust in my abilities and focus on the little details."
Her grandmother passed away when Hania was just 10 years old, but her legacy is kept alive. Thanks to her, Hania Kuzbari Jewelry Designs came to be in 2014. 

 


Our team of expert artisans handcrafting one of the Horseshoe necklaces.