Holiday Gift Guide: Deck the Halls with Jewels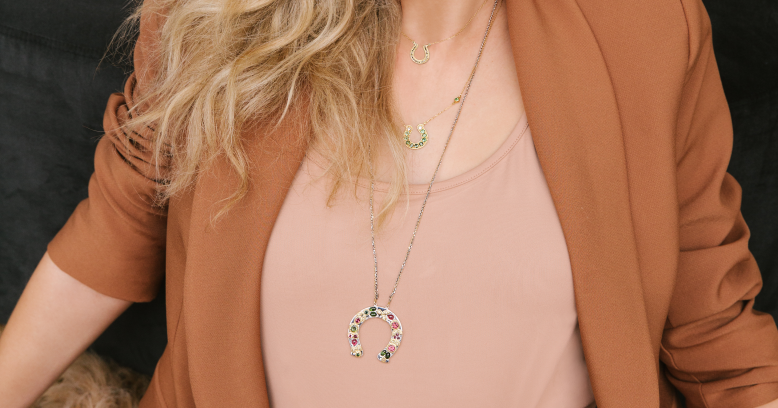 Holiday shopping is in full swing. Do you really want to brave the cold weather and packed shopping malls? We think not.
So, we've gathered a curated selection of the must-have Hania Kuzbari artisan pieces featuring conflict-free gems handpicked by Hania herself. Did we mention the pieces are made with recycled silver and gold? This is jewelry doing no harm. You can feel good about it.
Each piece is artisan produced inside Hania's workshop using ancient techniques for crafting fine jewelry. The result is the rare combination of handcraftsmanship and ethical precious metals and stones.
Make life complete with our picks from Hania Kuzbari's latest collections. This is the gift guide that's going to make you want to treat yourself and a friend. We say, do it. Now keep scrolling.


Truly a signature of the Hania Kuzbari brand, this one-of-a-kind necklace (that's right, just one of these exist) is for the person in your life that loves to have that one thing no one else has. This is the gift for that person who already has everything. This ethically sourced stone mix of pink and green tourmalines is paired with white diamonds to embellish the curve of the pendant. The double chain makes an understated statement all held together with a classic lobster clasp. And yes, it's made with solid 14k gold and 925 silver. This is the gift.
If you want to splash out the cash, say it with a set. Here, we've chosen to pair our Green Oval Cabochon Freestyle Ring with a custom Horseshoe Necklace.These can be paired together or mixed with others in our collections. Both feature 18k yellow gold and are ultra-luxe in their creation, with fine details and milligrain texture designed to stand out. All of Hania Kuzbari's jewelry is designed to be styled and layered. These pieces are low-key and make a statement at the same time. Matchy matchy or mix and matchy. Style them however you want.
If you're trying to buy something for a dainty jewelry fan, this brilliant cut Champagne Diamond Horseshoe Necklace is designed facing up in order to channel luck up at the wearer. This piece is a talisman. And if you believe in the spiritual benefits and effects of stones, this necklace is pointing the energy of these diamonds right at you. Some of the benefits (in case you're curious) are wealth and prosperity, fame and social reputation and a happy marital life. All of that good juju set in solid, recycled 18k gold with a satin polish finish and a lobster clasp. You may just want to purchase this one for yourself.
A good necklace is the gift that will keep on giving. This is one of our best options for that special someone who embodies refined rock n' roll. The double chain carries this dream-like blend of decorative gold stars, whimsical spirals, blue sapphires, and champagne diamonds embellishing the curve of this elegant horseshoe pendant. The horseshoe is facing down, so it will point luck all around its wearer, perfect for your friend who is all about spreading good vibes! There is only one piece with this exact design. Made of 14k gold, 925 silver and is held together with a lobster clasp.