Meet Our Muse | Julianne Costigan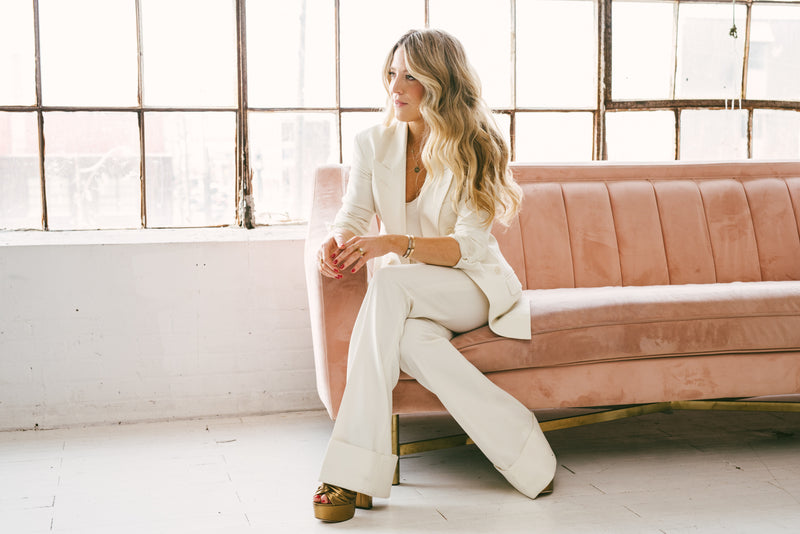 Toronto-based wardrobe stylist Julianne Costigan knows what it takes to make fashion feel fun. Using her closet curation skills, Julianne helps women find their own personal style and works with them to build a tailor-made wardrobe that is fashion-forward, cost-effective and better for the environment.
At Hania Kuzbari, connecting style with personal and ecological well-being is also of great importance. We curate evergreen fine jewelry collections to empower both our artisan makers and contemporary jewelry wearers. It's clear to see why Julianne is the perfect match for Hania Kuzbari's Meet our Muse series.
The forward-thinking Torontonian chatted with Hania Kuzbari to share how she fuses stylistic flair, quality and ethical practices. Keep scrolling to read more.
For Julianne, fashion is all about intention. Curating your wardrobe and styling a look with thoughtful pieces that make you feel confident is at the core of her business, and we can certainly relate to that.
"If you get dressed each morning excited to put on what you wear, feel great when you look at your outfit in the mirror, and are confident that your wardrobe speaks to your greatness when you walk into any room — I guarantee your frame of mind will become elevated."
Julianne believes that style mirrors self — it presents who we are and how we feel. From the clothes we pick to the way we style them, using your wardrobe as a conduit for self-expression will ultimately help you rediscover your best self.  
"Through the process of getting excited about dressing, women begin to connect with their clothes." 
"Purging pieces that have been holding them back seems to free space and lift a weight in both people's minds and closets. Learning to see what you have in a new light, and getting excited to make room for the new, takes you from a state of closet helplessness to wardrobe reinvigoration," says Julianne.
As entrepreneurs, Hania and Julianne continuously work to empower women. Julianne shares that her eclectic roster of influential clients have also helped her grow.
"There are so many things I learn from my incredible clients each day. 1. You can't have everything - you have to rely on support around you to help you, 2. Prioritize yourself, 3. Lastly, to be mission obsessed." 
Hania Kuzbari embellishes her fine jewelry with bold and beautiful ethically-sourced gemstones. She firmly believes that these colour pops radiate positive energy, helping you to feel incredible and look amazing. Alongside Julianne's many wonderful tips and tricks, she agrees that adding something as simple as a splash of colour immediately makes women look and feel more confident. 
"Whatever hue it is, your pop of colour should mean something and bring joy to your every day." 

 
"My go-to pop of colour is red, which on my everyday can at least be seen through my signature red nails. It is powerful yet classic and in my opinion, always sophisticated," says Julianne.
Julianne's career has also helped her to further understand the impact of fast fashion on the environment. As an environmentally-conscious designer, Hania asked Julianne how she works to promote thoughtful fashion. 

"Give your pieces the lifecycle they deserve and make sure to either sell or donate your purged pieces — or even better, give them to a friend or family member who will love them!"

 
Hania Kuzbari's Champagne Diamond and Tsavorite Horseshoe necklaces.
Last but not least, we had to ask Julianne how she styles her jewelry.
"I rely on simple jewelry that can be worn every day with every outfit."
"I look to special pieces of jewelry on the days or nights when I have more time to coordinate with my outfit," says Julianne. When asked which Hania Kuzbari piece she loved the most, she looked straight to our Horseshoe necklace with champagne diamonds.

"This piece is one that will go with every look in your wardrobe, making every day feel special and perhaps filled with a little bit of luck."
Meet more of Hania Kuzbari's muses! Read our interviews with Lisa Corbo, Mani Jassal and Rosemin Madhavji.