Summertime Magic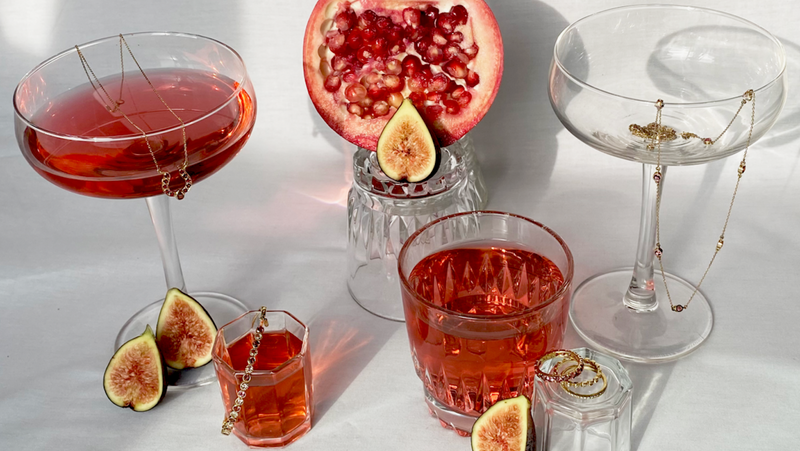 Colorful gemstones are often overshadowed by the allure of diamonds, but don't underestimate what the flash of our gems can add to an ensemble! Hania Kuzbari has curated a coloured gemstone collection to bring joy, style and a whole lot of sparkle to add summertime magic to the sunny season. 
Our radiant fine jewelry items effortlessly sprinkle excitement and delight to your summer wardrobe. While our bright and beautiful stones add a little something to your look, they also hold a deeper meaning that makes our ultra-fine pieces extra special. 
Keep scrolling to learn more about our specially selected gemstones, and peruse the Summertime Magic collection here. 
Tourmaline time
What do you know about our favourite precious gem?
In the 18th Century, tourmalines were considered to be helpful to artists, authors, actors and those in creative fields. In many cultures today, the stone is recognized for its healing power and ability to calm negative emotions.
Tourmaline is known as the "receptive stone," meaning it is soothing, calming, inward, and magnetic. The precious gem promotes meditation, spirituality, wisdom and mysticism. It creates peace and promotes communication between the conscious and unconscious minds.
"I love the Tourmaline gemstone. As it shines, an array of colors glitter from the inner depth of the jewel. I am fascinated by both its chemical and physical properties. This gem crystallizes and forms deep in the earth, engaging with traces of metals which convey the different shades and hues you see. From pink to green and blue to orange, each of these colors provide diverse energies from the earth and affect us in different ways." 
- Hania Kuzbari
Green goddess
We love a vibrant green, it represents energy, growth and harmony. These glowing tourmalines inspire creativity, and are often used to project, create and manifest one's goals. Our sustainably salvaged stones add positivity and prosperity to your style. 
From cabochon to rounded, our beaming green pieces showcase a range of creative cuts and stand out shapes, (ranging from 0.92 carat to 2 carat). Each handmade fine jewelry item is complimented with salvaged 18k gold, ensuring they give a lifetime of magic. 
We just dropped this new Freestyle ring with green tourmalines and diamonds. Keep your eyes peeled for more summertime drops, coming soon.
"Green is the colour of nature.  When mixing green and red stones I see roses and trees,  symbolizing love and gratitude. When I work with these stones, I feel each colour has its own positive energy and a story to tell."
- Hania Kuzbari
Pink paradise
Our rose tourmalines add a playful touch to your look and are ethically-sourced to give a feel-good shine that stays for every summer to come. 
These gorgeous gems aren't just picture-perfect, they are said to possess special powers to heal emotional wounds, alleviate stress, and promote kindness, peace, and love. 
Available in a variety of dazzling styles, these playful pink stones shine bright in brilliant-cut and rounded shapes. Each luxury item is individually handmade by our expert Syrian artisans, using (0.3ct - 4ct) tourmalines that share positive vibes forever. 
"When I work with pink stones I feel I am in touch with the collective traits of these gems. I feel courage, power and boldness, while also embracing the softness, calm and fun of these precious elements."
- Hania Kuzbari
The Sapphire style
Within our Summertime Magic collection you'll also find coloured sapphires, as seen here on our Flourish Horseshoe necklace. This statement necklace is embellished with 4.55 carat sapphires and decorated with champagne diamonds. 
The regal and rare gemstone has been prized since 800BC. Throughout history, kings wore sapphires around their necks as a powerful defense from harm. The shining stone is known to preserve the wearer from envy and attract divine favor.
Sapphires are also said to help the wearer find peace of mind and serenity, while increasing the owner's faith, hope and joy. What's not to love?
Let your true colours shine through this summer. Our Summertime Magic curation brings sparkle, shine and colourful fun this summer. Each fine jewelry item can be worn alone for a touch of summer charm, but when worn together these pieces give spellbinding style. Explore the full collection here, and stay tuned for some never before seen pieces dropping soon.