An evening with Hania Kuzbari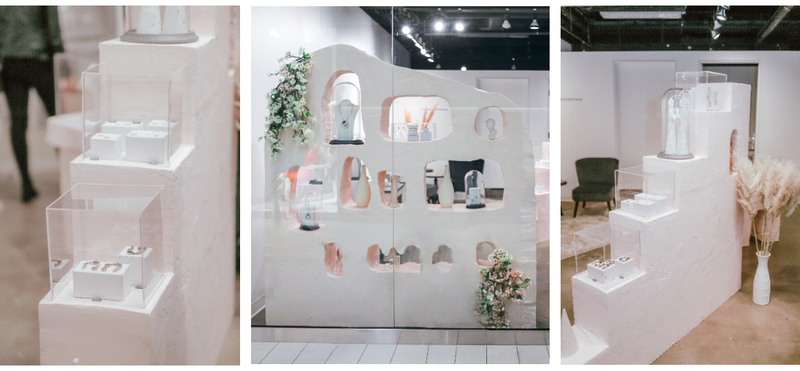 During this moment of isolation, we're reflecting on quality time spent with the HK community. 
Remembering time together 
On March 3, we celebrated the opening of our Yorkville Village pop-up boutique. As the safety of our staff and community is of greater importance right now, we made the decision to close our doors to help stop the spread of Covid-19. Now, with more time on our hands and distance between our friends and family, we're remembering this special evening fondly, surrounded by our wonderful Hania Kuzbari community.
A celebration of true fine jewelry
The opening event was a time to celebrate our new store's stunning design and our luxury fine jewelry. Amongst the Yorkville Village shop were standout displays showcasing the brand's key inspirations of ancient architecture and modern design.  A stop-and-stare ancient ruin window display in pastel pink showcased the precious pieces while a standout staircase featured as the centerpiece for the store. Amongst these displays were our necklaces, bracelets, earrings and rings made of salvaged silver and gold featuring ethically sourced authentic gemstones.
Not too long ago, when hugging and shaking hands took no thought, friends, family, customers and followers joined together to celebrate our ethically handcrafted precious pieces in our beautifully designed pop-up space. We were very lucky to be joined by industry members, influencers and loyal patrons. 
Just a few weeks ago, we were discussing joyful jewelry and making plans for the future over a glass of bubbly and a sweet treat. It's these more human moments we'll never take for granted again.
Enter our virtual showroom
Even though our doors are currently closed, you are still able to book a private appointment in Hania's virtual showroom. Simply DM us on social media or send an email to hania@haniakuzbari.com to book an appointment in our #MeantToBeWorn virtual Styling Corner where Hania Kuzbari will personally choose pieces for you off the shelves and from her vault. All of our pieces are wearable objets d'art, however if you would like to create your own custom design, contact us to make an online made-to-order appointment.
See you soon
Thank you to everyone that joined us, we hope you enjoy the photos and we look forward to sharing a hug and some bubbles with you very soon. 
Business is still continuing as usual online, and we can still join together, virtually. Whether you want to talk through our collections, design a custom piece or simply say hi, we're here for you. 
Take care, stay home and stay inspired.
Let's look back to a time of togetherness
Celebrating our fine jewelry amongst standout displays with our supportive circle is a memory that will last forever. During this shift, most of the world is reminiscing fond moments shared with loved ones and we are so glad we have this wonderful evening to return to.