In Conversation with Namesake Designer Hania Kuzbari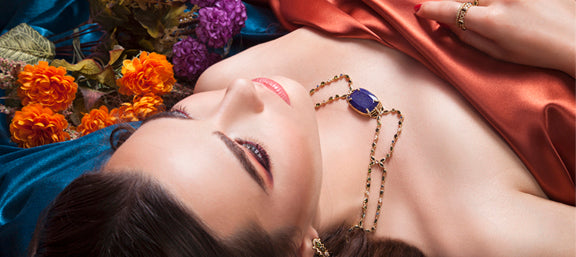 Hania Kuzbari, designer of the eponymous fine jewelry brand, expertly designs each piece as a testament to her lived experiences, paying homage to the cultures, craft, people and places which have shaped her. With precision and intricacy, Hania tells her story through her art, creating jewelry bound to become a part of the stories of those who wear them.
Hania is set to make her Canadian debut at Toronto Fashion Week Spring/Summer 2019 with a private viewing on September 4, 2019 at the Hazelton Hotel in Yorkville. Her designs will also be on display at the Designer Marketplace from September 3 to 5, 2019.
Discussing her influence and inspiration, from metalwork to stone setting and her Syrian heritage, the designer shares landmarks in her ever-evolving career, the significance of ethical production and her vision for the future of Hania Kuzbari Jewelry Designs.
1. When and how did you realize fine jewelry design was your calling?
It took many years of trying out different things. ​​ ​Since I was a little girl, I loved working with my hands​​. Everything from knitting, creating miniature shapes from dough​ and​ adding little ​details, cooking and decorating cakes – making very fine finishing and focusing on the tiny details. Then, I started to work on making jewelry with beads when​ I found my curiosity grew​ into​ finding answers ​to​ my questions​. ​How we do ​soldering​, how we set stones, how we use different materials or create​ finishings. So, I started looking for a place to learn. I had the opportunity to​ study at ​George Brown College ​to learn the techniques​ of jewelry making. Afterwards, I went to Italy and that's where I learned how to design and use even more techniques and learn not to be afraid of ​exploring​ new ideas! My family​'s history of working​ in metal coating and construction also inspired me heavily as a jewelry designer. I can say I was familiar with these techniques, but I never thought I would become passionate to work in this field!
2. Personally, how does jewelry make you feel? Have these feelings shaped your [brand/jewelry] philosophy?
Wearing jewelry makes me feel more confident and beautiful. Jewelry to me is about the story behind it and how it is attached to me in a way. It could be about the inspiration, the process of making it, the stones it ha​s, if any, or the value ​to​ the piece​. ​ ​Everyone has their​ own interpretation for the pieces he or she wears.  There is an intimate relationship between the jewelry and oneself. So, when I create my jewelry, I take these thoughts into consideration.
3. Which of your passions or experiences most translate into your designs?
Details and the craftsmanship. I really love the work behind the creation of each jewelry piece, from the moment we sketch to the moment it's ​made​. I like to be involved and follow up throughout the entire process ​to make​ sure the product goes with our concept and customer needs.
 4. Where do you go to for inspiration when designing a new collection? What kind of person do you have in mind when designing each collection?
Finding the inspiration is something very interesting in a designer's life. When you are born in a very interesting and rich culture, you don't have to go anywhere and look around – you just need to look well and observe and love! I was surrounded by plenty of beautiful things which I wanted to ​reflect ​in one way​ or another. ​A​lso, inspiration doesn't have to be an object – inspiration can happen out of certain circumstances and experiences happening around you. For example, my
Smile
collection​ was a way for me to lift the spirits of people back home. I wanted to create something fun, beautiful and artistic to remind people to stay positive and hopeful with a smile! 
5. Why did you choose to do a private event at Toronto Fashion Week?
I love meeting w​ith​ people and have them see our jewelry in ​person​ and talk about it. But because we are dealing with​ intimate objects​, we chose to have a small private event​ to match and speak to the intimacy of the pieces as well. ​​However, we will also have our jewelry on display at the Designer Marketplace wh​ere we welcome everyone to come and take a look. 
6. From metalwork to stone setting, how does your Syrian heritage play a role in your production process?
In​ Damascus, ​the city that ​I​ was born​ in, ​most of the things around me were handmade. The more handwork is implemented in its creation, the more precious it is. The bed I slept in was wood-crafted, the plate I ate on was glass-crafted, the paintings on my walls were hand-painted and the fabric I used was made by hand as well. This left a big impact on my work and boosted my appreciation for fine details and intricacy, which I now integrate into my jewelry.
7. Ethically sourced materials are integral to your brand. What kinds of materials do you prefer to work with, and how do you decide where to source them from?
I love to work with gold and silver using gemstones or diamonds. ​W​e have our own sources from​ the​ ​F​ar ​E​ast where we work with companies that are well known ​for their authentic​ and ethically-sourced gems and diamonds.
8. If you could see anyone, dead or alive, wearing one of your pieces, who would it be?
I am enamoured by the stories of powerful women who have had a difficult life and despite their adversities are still shining all the time and inspiring millions to help them lead a better life in whatever work they do. Women like Oprah Winfrey and Celine Dion. I would love to see my pieces worn by these women. I would also love to see my jewelry on the likes of fashion icons such as Iris Apfel. With her bold, distinctive style and joyous attitude, she inspires many to own their own unique style. 
"I never buy what someone says is in or a must have, I buy what makes me happy" - Iris Apfel 
 9. What do you envision for the future of Hania Kuzbari Jewelry?
I see my brand spreading the importance of handcrafted work and beautiful artisan jewelry designs. Creating new lines and pieces with different styles and techniques. I also envision the brand expanding to different cities and new places around the world.